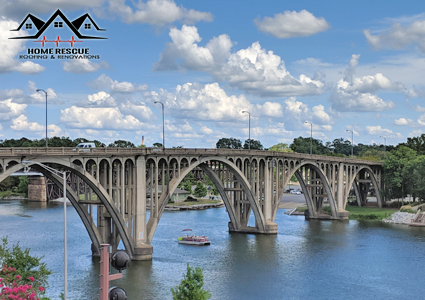 Do you need a roof replacement in Gadsden AL from a roofing company you can trust and afford? Home Rescue Alabama expertly installs new roofs at a great price!
When your old or damaged roof is beyond repair, replacing it with a new, waterproof roof is always the best option. Don't overpay for it!
Call (256) 344-4334 Today.
Whether you are tired of paying for constant roof leak repairs, have storm damage, or have a roof that's 15 years old or more, we can replace it quickly.
New Roof Installation Gadsden, AL
Removing and replacing roofs is something we have decades of experience with. For homeowners in Gadsden, finding a reputable and professional roofing contractor can be challenging.
When you hire us to replace your roof, you will have peace of mind knowing that we are licensed, certified, and fully insured. Additionally, we're based right here in Etowah County and not from out of town. Because of this, we care about our reputation and the installation service we provide to our customers.
We specialize in:
Shingle Roofs. Asphalt and fiberglass shingles including 3-Tab and Architectual/ Dimensional.
Metal Roofs. Standing seam, R-Panel, and Corrugated.
Home Roofs. Any size home, small or large.
Apartment Building Roofs. Single story, two story or more, condos included.
Roof Replacement Cost in Gadsden
So now that you understand it's time to replace your old roof, how much should it cost to do it? It's less than you think! In 2021 the average cost for roof replacement in Gadsden AL is $7400 for smaller roofs, $9600 for larger ones and $14200 for some of the biggest roofs.
The actual price that you can expect to pay for your roof is dependent on a few facts. For instance:
What is the size/ area (square footage) of your roof?
How many layers of old roofing need to be removed first?
Which type and style of new roofing will be installed?
Is there any underlying structural roof damage that need repairs first?
Regardless of the answers to those questions, the final cost of having a brand new roof installed is almost always affordable. Helping our customers keep this expense as low as possible without sacrificing quality is our focus. This is also one of the reasons why we offer 100% roof financing.
Insurance Claims.
When we inspect a roof prior to replacing it, we look for many things. Soft spots in the decking, chimney flashing, and other roof damage are key items. For storm damage (new or old) including, hail damage, filing an insurance claim may be your best option.
Our friendly and knowledgeable staff can easily help you with a roof replacement insurance claim. In many cases, your entire roof can be replaced for the cost of your deductible. Once our roofing inspection is complete, we will let you know if this is a viable option.
We provide expert roof replacement in Gadsden AL and the surrounding area.